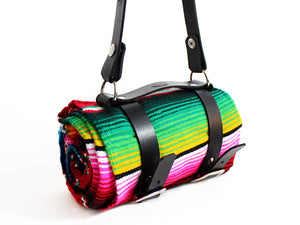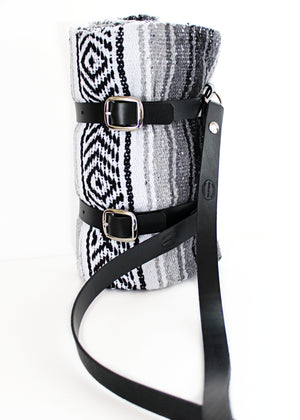 Leather Blanket Roll with Shoulder Strap
We have updated our popular leather blanket roll by adding a detachable leather shoulder strap to make it even easier to take your blanket on the go.

We have also added a new blanket color, now you have the option of a bright multicolored or grey blanket.
Perfect for use on motorcycles, bicycles, backpacks, horseback, or even carried by hand. The blanket is great for the beach, under sleeping bags or just for a rest under a tree. Available with or without the blanket.
TO USE: Unbuckle straps around the blanket. Put the unbuckled straps around whatever you wish to attach to it. Buckle the straps tightly again to keep secure. Strap is connected by high quality snaps.
Multicolor blanket: 76 by 36 inches. Acrylic. Machine washable.

Grey blanket: 72 by 48 inches. Acrylic cotton blend. Machine washable.
High quality American leather straps, hand cut
Shoulder strap measures approximately 50 inches (127 cm)
Straps are approximately 6 inches (15 cm) apart
Straps are riveted together for extra strength and durability
High quality nickel buckles keep the blanket in place