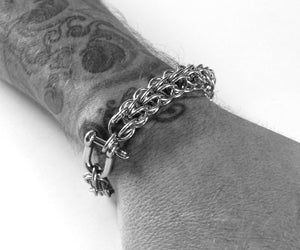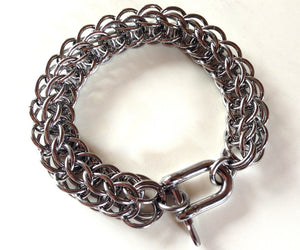 Persian Bracelet
Our Persian weave creates a thick bracelet without being too heavy. It is woven by hand, link by link, with the finest stainless steel rings we can get our hands on. We prefer stainless steel over silver since it will not rust or tarnish and will not dent or become misshapen. Available with your choice of clasp. American made.
Small fits wrists up to 6.5 inches (16.5 cm)
Medium fits wrists up to 7.5 inches (19 cm)
Large fits wrists up to 8.5 inches (21.5 cm)
We do not measure the bracelets by their length, as due to their thickness this doesn't really represent their size. We measure the inside circle where it sits on your wrist. A small will have an inner circumference of about 6.5 inches, medium 7.5 inches, and large 8.5 inches.
The best way to get the perfect fit is to measure the wrist and order the size that falls within that. If you cannot measure a good rule of thumb is that a small fits an average women's wrist, medium an average men's wrist, and large a large men's wrist.
We are always able to adjust the size if it doesn't quite fit right, all you have to do is send it back to us.